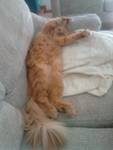 Dear MACS,
My name is Larry. I was adopted in October 2009 at the PetSmart located in Utica, MI. I am two years old and I was found wandering the streets of Detroit. Once picked up by MACS in September 2009 I was transported to the PetSmart. From there I was named "Pumpkin" for the time being.
The next month in mid October 2009 a young lady always came to visit me, named Samantha. She came up just about every other day to see if anyone decided to adopted me. After a week she just had to have me. I think its because I am so cute and furry. After a week she decided to put an application in for adoption. She was very happy once she learned that she would be taking me home and even cried tears of joy.
I went home in late October 2009 and I love my new family. My mom later re-named me Larry and I reside in Sterling Heights. I have a sister named Lydia, who I don't like very much, but I deal with her. I am so happy in my new home. I love my mom so much that when she comes home from work I always greet her by the door and jump on her to give her a great big hug. I like
to be around my mom at all times and I like to be held constantly, I just LOVE attention. I also like to eat, sleep, and lay in the sun. I barely meow, unlike my sister who is such blabber mouth. I am a very happy cat.
I want to thank the nice people at MACS for picking me up off the streets and giving me a wonderful home.I couldn't be more happy.
Thank you for everything!