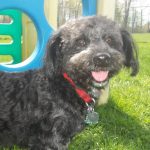 My Diego was adopted from MI Anti Cruelty July 11, 2012, 2 weeks after I had to send my 11 year old BFF to the Rainbow Bridge. Diego was a stray and you warned me you did not know anything about his past. I loved him the moment I saw him on Petfinder and knew we would be okay together.
Diego is so sweet, part poodle, part terrier so he is a little feisty. He was 1 1/2 year old when I got him, was crate trained and loveable but fearful of many things. I could not collar or leash him without major struggle so I suspect he was kept tied up,something we will never do to him! He would not come when called, tore the bottom of my pants trying to get me to play with him, barked at me and ran away when I tried to bring him in the house, dug holes in the yard and tried to get out by under the fence. He was terrible at the groomers, was okay on walks but cowered when we walked by groups of people and fought me trying to get him back in the car. Yet he loved to be petted and cuddled.
1 year later….he comes when called… most of the time…., has stopped digging holes, knows a few tricks, rarely lets me out of his sight, cuddles at night and is great with my grandkids. He even lets me brush his teeth at bedtime, not crazy about it but he lets me. We go for walks at the lake several days per week and he is very well behaved. He is still nervous around crowds but as long as he can see me he is comfortable. He goes to Best Friends Doggie Day Camp 2 days per week and has many doggie friends. We even adopted a cat last winter, named her Dora and they are indeed best buddies!